What Is Palletizing

What Is Palletizing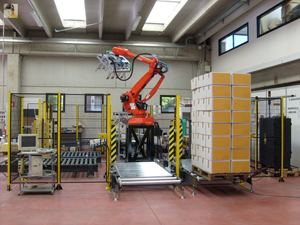 Whether you spell it palletising or palletizing, this is simply the process of putting items onto a pallet for convenient, high-volume shipping. Palletizing has developed alongside the development of the forklift and the development of industry and globalization.
Palletizing originally involved manual labor, putting boxes or heavy bags onto pallets for loading into trucks. The growth of palletizing has been made possible by ever more sophisticated palletizing systems, beginning with the palletizing machine installed by the Lamson Corporation in 1948. In the early 1950's, the row-forming machine was developed. This palletizing machine aids in the process of forming neat rows of product on the pallet. The development of computers and robotics had clear implications for palletizing, as more and more of the work, and more and more of the control, could be handled by the palletizing machine itself. In addition, the variety of products that palletizers could handle grew to include items, such as bottles, which would be impossible or at least cost-prohibitive to palletize by hand.
Faster, more secure palletizing translates to more efficient logistics and lower transport risk for the company. As a result, palletizing units can be found in nearly every industry. Not all palletizing units are used for handling products destined for customers; some industries, such as the auto industry, may palletize parts for easy transport from one part of the company's manufacturing complex to another. Palletizing has truly become a critical part of the manufacturing process; if a palletizing process goes wrong, production must be stopped!
This makes proper palletizer maintenance essential. The owner of a palletizing unit may choose to have the unit serviced by the palletizer manufacturer, or may choose to send technicians to the manufacturer for training. Operation manuals for palletizing machines are nonetheless as complete as possible, as palletizer manufacturers know just how critical their products are!