Depalletizer




Depalletizer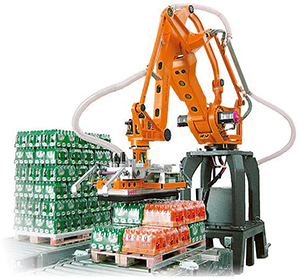 Depalletizers are robotic machines that unload (depalletize) packages or products from the pallet. The depalletizer allows the transfer of products and materials from pallets without the use of human personnel, saving thus time, money and effort.
There are several types of depalletizers, depending on the features offered, but especially depending on the type of material and on the product to unload from the pallet. The lifting of products to be depalletized is usually done with one of three proven methods, i.e. the pneumatic system, the vacuum chamber, and mechanical fastening: depalletizing thus can adapt to any type of product.
Modern depalletizers are equipped with a control system that stores product data and the assignment of parameters such as speed, acceleration, clamping force (or the amount of depression when lifting with a vacuum chamber), in order to ensure dynamic, secure and careful product handling.
Usually, depalletizers are designed so they can take a whole layer of the pallet: this provides very high rates of work. But there are also special types of depalletizers, with appropriate vision systems, which can recognize and lift individual items from the pallet; this approach allows greater flexibility and the machine can handle mixed pallets (see mixed palletizing): in this case the individual products can be depalletized and stored in different areas.
The major depalletizer producers are able to provide depalletizing systems according to customer needs, to provide personnel to accompany the customers in the first depalletizing cycles, and to ensure an efficient and durable maintenance service.