Mixed Palletizing









Mixed Palletizing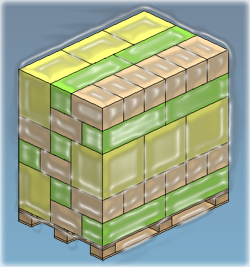 Mixed palletizing is the increasingly popular technique of placing products (typically boxes, bags or cylindrical containers) of different types and sizes on a single pallet. This need, which relates to the rising cost of transportation and logistics, requiresoptimizing space on pallets in order to place as many products as possible.
Mixed palletizing is a challenge that companies handle using increasingly complex and integrated palletizing systems. Typically, a mixed palletizing system consists of one or more lines of product deliveryand one or more palletizing stations. The palletizing system (usually consisting of a robot) recognizes the products (through vision systems or other types of indexing), picks them up, and deposits them on the pallet in accordance with the assigned palletizing pattern.
Although deriving from traditional palletizing, mixed palletizing introduces a series of complications involving both mechanics and control logic. From the mechanical point of view, mixed palletizing requires special attention in the design of the gripper for picking the products: the device must in fact automatically adapt itself to various types of product in order to ensure a firm hold. From the control logic point of view, the major complications of mixed palletizing are linked to the need for automatically recogniting products and optimizating palletizing patterns. In particular, the problem of optimizating the layout of products on pallets, already difficult in conventional palletizing, becomes extremely complex in mixed palletizing due to the high number of possible solutions. It is therefore essential to use Pallet Loading Software for a mixed palletizing procedure that involves palletizing more than two or three different products.